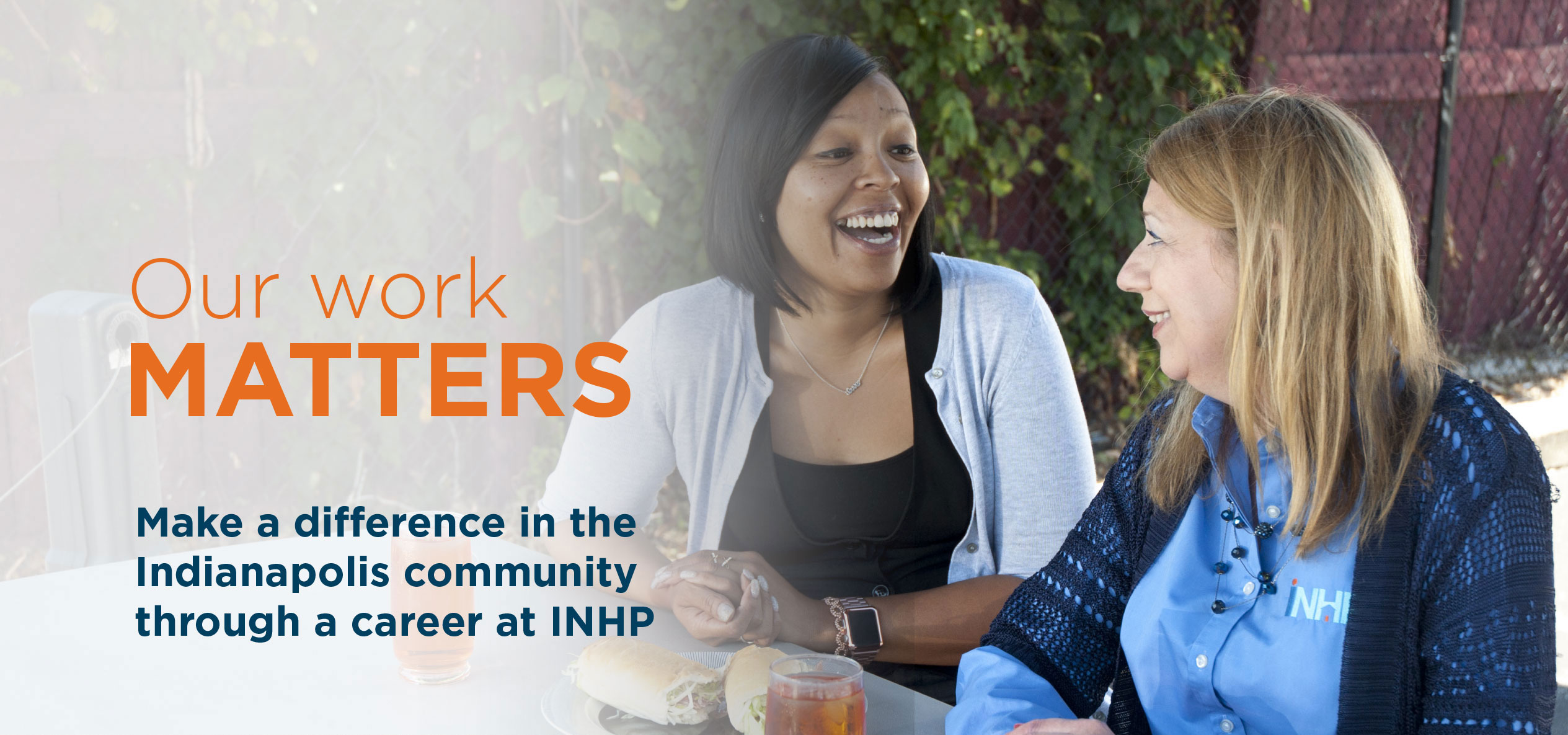 INHP offers a comprehensive benefits package which includes (but is not limited to) the following:
Insurance options including medical, dental and vision plans
Company-paid life insurance benefits
Company-paid short-term and long-term disability insurance
Health care and dependent care flexible spending accounts or a Health Savings Account
INHP offers a comprehensive package which includes (but is not limited to) the following:
Competitive base salary
Opportunity to participate in 403(b) retirement program with company contributed percentage
Benefit election options to meet your individual needs
INHP offers a comprehensive benefits package which includes (but is not limited to) the following:
Company-paid life insurance benefits
Paid time off (including vacation and sick time), paid holidays and paid winter break
Employee and wellness committee sponsored activities
Access to Employee Assistance Program (EAP)
Current job opportunities
Marketing Communications Associate — This position is an integral part of the marketing communications team, responsible for the implementation and evaluation of INHP's business-to-consumer (B2C) and business-to-business (B2B) marketing communications plans aimed at influencing brand perception and generating leads. The marketing communications associate also applies their integrated communications expertise to help INHP's advancement department achieve donor acquisition, engagement and retention goals.
The ideal candidate will work collaboratively with the team to support internal communications initiatives; conceive and execute email marketing campaigns; write clear and concise content across all channels for internal and external audiences; and help develop communications tactics such as press releases, collateral materials, advertisements and presentations. The individual also will be the day-to-day contact for INHP's annual media buy, working with consultant team(s) to develop and implement a robust plan that is strategic, responsive and ultimately supports lead generation goals. Working in concert with other members of the marketing communications team, he/she will develop strategies that leverage all communications channels in support of community outreach/event marketing initiatives and sponsorship programs.
All interested candidates should apply here.
Homeownership Advisor — The position assists customers in identifying and removing barriers that impede them from obtaining mortgage financing.  Specific duties of this position include but are not limited to:
Critically analyzing a customer's entire financial profile (credit report, income, debt load, time on the job, down payment, savings, rental history, etc.)
Determining what resources are available to a customer to assist with improving and/or developing credit history to obtain financing
Helping the customer develop a plan of action of his/her resources to provide optimal outcome
Achieving established production goals for the number of customers who complete the Homeownership Preparation Program and qualify for a mortgage
This position requires a minimum of three years of applicable mortgage industry or financial counseling experience.  In addition, a bachelor's degree in a related field is preferred or extensive equivalent experience working with mortgage markets and non-conforming loan products may be substituted for the degree requirement.  The qualified candidate must obtain his/her counseling certificate from the Housing of Urban Development (HUD) within 90 days of his/her hire date.  Being bilingual is a highly preferred skill for this position.
All interested candidates should apply here.
INHP is an equal opportunity employer: disability/veteran.